If you advertise in Photon, appearing in our ad index and with links through to mentions in relevant articles, you get the attention of over 15,000 monthly readers visiting a site rated by two of the leading US Web auditing services as No 2 Worldwide (GNN Top 25 and Point Communications). We have proved more popular in these ratings than Apple Computer, The White House, Microsoft and The Safer Sex Guide (data from April to June, 1995).





Photon entry page and PHOTONet Index page sponsorship positions are now available following our June redesign. Special artwork revisions to our header strips allow incorporation of your corporate logo and/or slogan, displayed very rapidly, as the page starts to load. Your target audience is our readership - Net surfers with the level of equipment and disposable resources needed to view a primarily photographic, image-intensive site. HTML linking to your own Web site or material is optional.

Our sales agents for the Photon Web edition are Mark Peacock and Georgina at Photon's Bedford sales office, on (+44) 1234 210539 or fax (+44) 1234 267199.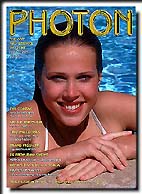 Our sales agents for the printed edition, who now own computers and have their lunch breaks in cybercafes, are Colette and Barry at Icon London office on (+44) 181 642 7757, fax (+44) 181 770 0102. Advertising in British magazines is very good value at the moment - a typical color full page costs under $1,500 and you can buy 1/8th page display space to advertise specialized products for around $200. Unlike consumer photo magazines Photon includes an Enquiry Reference No system and postage free reply card. Have a pint of Guinness in your hand when you ring. Why do all the best ad reps come from Dublin?

If you want to add a service primarily accessed thru Photon itself, such as a User Group for a camera make or a Special Interest Group for a field of photography, you can rent some server space, construct your site and let us know. If it is beneficial and properly maintained it will cost you nothing for your link in Photon. We benefit as your site will add to our overall value, you benefit from our traffic as the Web's most popular Photosite.

Now that's the sales pitch over, you can go back to PHOTON.